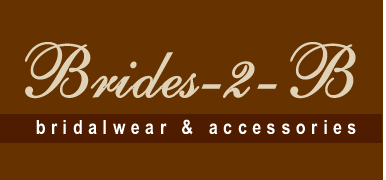 This is a notice to inform you that as from
25th May 2018, our store in Watford will be closing its doors for the final time.
​
We will be relocating our beautiful gowns to Leighton Buzzard, and continue to provide stunning wedding gowns through our agent
Should you wish to make an appointment to view our gowns please call Lucy on
We love receiving photos from our couples wedding day, especially when it features our beautiful wedding dresses from Mori Lee, Maggie Sottero and Sincerity to name just a few. If you have any photographs you would like to share with us please email them to info@brides-2-b.com or you could always pop into our bridal shop and them off personally.
"So helpful and patient"

Hi, I just wanted to get in touch to thank Brides-2-B for helping me choose my wedding dress. The staff were so helpful and patient, I always felt comfortable and never rushed. I just wish I could do the whole thing again! I've included a link from our photographer to the preview shots from our wedding (on 8th July) so you can see me Maggie Sottero 'Rachelle' dress in action! Thanks again for all your help!! Rachel

"The staff are fantastic"

The staff are fantastic. I explained my situation and I was asked what I liked and they also recommended some dresses which they thought would suit me. Was made to feel incredibly special and found my dress. So many people told me not to settle on the first one I like and to look around but with the selection on offer I knew I didn't need to look elsewhere as I had chosen the perfect dress for me. Thank you to all the girls and seamstress, it was an unforgettable experience. Leia

"Thank You!"

Thank you for the most beautiful dress in the WORLD xxxx Roxana Pislaru

"you listened to what I wanted"

Thank you so much for the lovely dress you chose me for my wedding. I would have never ever chose a dress like this for myself but, you listened to what I wanted, nothing white or ivory but, a different and unusual dress. From start to finish the service was faultless you even took it in for me and put a blue bow inside for Good luck. So many people have asked if they can buy it off me but, my daughter loves it and I will have it all cleaned and put away for her. Angela xx

"The staff were great.."

After numerous recommendations from past brides I made an appointment at Brides-2-B. Being a bigger girl it was so refreshing to walk into a room of gowns that I could properly try on without being squeezed into a size 8. The staff were great when i ordered my dress allowing me to put a deposit down and get measured closer to the big day as I found my dress quite early. I had an all round wonderful experience with Brides-2-B.

"I had the best time!"

I'd heard some rather scary stories about what shopping for a wedding dress can be like and chose Brides-2-B because someone said that you weren't scary at all – and I'm so pleased that I did, because not only was the experience 100% scare-free(!), everyone was professional, reliable and lovely, and I had the best time! I really appreciate your efforts to make sure the whole experience was as fun and stress-free as possible.I ended up with a dress that I absolutely loved. Sara xx

"the dress was amazing!"

Hi lovely lady, Wedding pics as promised, dress was amazing and felt so me and so comfortable, I danced all night. Huge love, Zoe xxxx

"my perfect wedding dress"

Dear Santy and the Brides-2-b team, Just a quick message to say a huge thank you for helping me find my perfect wedding dress and being so accommodating with appointment times and fittings so that I could get back from Denmark! We really had a perfect day- I've attached some pictures for you to see! Best wishes, Charlotte. Xx

You were all outstanding!

My wedding on 10th of July 2015 went without a hitch. It was all so perfect. Everyone commented on how beautiful I looked in my stunning dress. As promised, please see attached a picture of my husband and I on our wedding day. I shall recommend B2B to anyone I know getting married and who are looking for a friendly, reliable and extremely professional place to purchase a dress. You were all outstanding!

Absolutely Perfect!

Hi ladies, I just wanted to send an email to say how grateful I am for all the help I received when choosing and purchasing my dress. It was absolutely perfect and so many people commented on how lovely the dress was. Thanks for making my experience so relaxing and enjoyable. Best wishes, Cara

My dream dress!

Thank you so much for helping me pick my dream dress. I loved it and so did everyone else! Charlene

"Amazing service!"

"Youre a one in a million business!"

"The perfect wedding dress!"

"I felt like a Princess!"